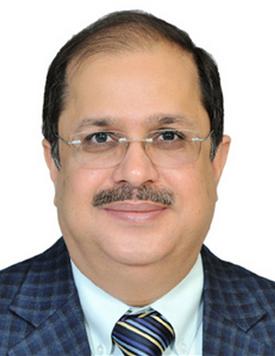 Dr. Ausaf Sayeed (b. September 18, 1963) holds a Master of Science (M.Sc.) and a Ph.D in Geology from the Osmania University in Hyderabad, India and an Advanced Diploma in Arabic from the American University in Cairo. He is a Competent Toastmaster (CTM) and recipient of the Shri Y.G.K.Murthy Gold Medal from Osmania University.
Dr. Ausaf Sayeed is a career diplomat belonging to the Indian Foreign Service (IFS), 1989 Batch. He is currently serving as Consul General of India in Chicago from August 6, 2013. Earlier he served as Ambassador of India in Sana'a, Yemen from September 2010 to July 2013, as Joint Secretary (West Africa) in the Ministry of External Affairs, Government of India (August 2008 to August 2010), Consul General of India in Jeddah (August 2004 to July 2008) and Counsellor in the Embassy of India, Denmark (October 2001 to August 2004). He has also served in various capacities in the Indian diplomatic missions in Doha, Riyadh, Jeddah and Cairo, besides serving as Regional Passport Officer in Hyderabad.
Dr. Sayeed has handled different areas of work in his 24 years of diplomatic service, including political, economic, consular and cultural work, besides Haj management.
Dr. Ausaf Sayeed launched several business groupings during his assignment in the Gulf (GCC) countries to promote trade and economic relations between India and th Gulf countries. Some of these include the Indian Business Network (Riyadh -1996/97), the Professionals of India, Saudi Arabia (POISA), Dammam (1996/97), the Indian Business and Professional Network (IBPN), Qatar (1998), the Saudi Indian Business Network (SIBN), Jeddah (2005), the Indo-Saudi Medical Forum (ISMF), Jeddah (2006) and the Indian Education Council (IEC), Jeddah (2006).
Dr. Ausaf Sayeed has contributed in promoting India's rich cultural heritage abroad. He was associated with the inauguration of the Maulana Azad Cultural Centre in Cairo (1992). In 1997, he organised the "Satyajit Ray: in retrospect", a one-week film festival of renowned director Satyajit Ray's films in Riyadh, Saudi Arabia. As Coordinator of the Indian Cultural Centre in Qatar, he was instrumental in organising several cultural and literary events. In 1999, he organised a 9-day festival 'India Week in Qatar' in association with the National Council of Culture, Art and Heritage in Qatar in which several leading artists from India participated. In 2003, he organised joint Painting Exhibitions and Workshops involving leading Indian and Danish painters in various cities in Denmark.
During his tenure as the Consul General of India in Jeddah, he organised the first-ever 'India Festival in Jeddah' (September 2005), followed by the 'First Asian Festival in Jeddah' (October 2006) and the 'First Asian Film Festival' (February 2008). He was closely involved with the formation of the Saudi-India Friendship Society in 2006 under the patronage of the Saudi Ministry of Information and Culture. He was also associated with the Saudi-India Civil Society Dialogue.
He formed the 'Asian Consuls General Club' (ACGC) in Jeddah in 2005, which comprised of Consuls General of thirteen Asian countries. He was instrumental in the publication of the book 'Historic Indo-Arab Ties' (September 2005) by the Indian Consulate.
He is a patron of Urdu language and literature and organised several Mushairas, seminars, symposia, humorous sessions and Ghazal and musical programmes. The Annual Urdu Mushaira in Jeddah, which was conceived by him in 1996, has since become a prestigious annual Urdu event, being organised continuously for the past 17 years. He was instrumental in organizing the first World Urdu Conference in Jeddah in June 2008 in association with the Maulana Azad National Urdu University (MANUU), Hyderabad. He was the main architect behind the introduction of external Urdu examinations of MANUU in the Kingdom of Saudi Arabia for the benefit of Non-resident Indians (NRIs).
Dr. Ausaf Sayeed has been actively contributing articles on varied topics to different magazines and newspapers. He has published three books (i) 'Trends in Objective Geology for Civil Services and Other Competitive Examinations', CBS Publishers, New Delhi (First Edition, 1990; Third Edition, 2003) (ii) 'Trends In Indian Culture And Heritage: For Civil Services (Prelims And Mains) and Other Competitive Examinations' , Har-Anand Publications, New Delhi, 2011, (iii) 'Indian Art and Culture', Har-Anand Publications, New Delhi, 2011.
He also has to his credit a research paper on 'Petrology and Petrogenesis of Syenites from the Cuddapah Basin, Andhra Pradesh', Journal, Geological Society of India, Volume 43, March 1994, pp 225-237.
He compiled and edited the Urdu book 'Kuliyaat-e-Awaz Sayeed', which comprises of the entire literary works of his father. The book was released by Honourable Vice President of India Shri M.H.Ansari on August 13, 2009. He is also working on two other books, "Haj: an Indian Experience through the Ages" and "Indian Rubats, Madarsas and Wakfs in the Holy Cities of Makkah and Madinah".
Dr Ausaf Sayeed is a Hadhrami Arab by descent belonging to a respectable family of Hyderabad Deccan, with roots in Mukallah in Hadhramaut (present-day Yemen). He belongs to the Al-Musalli (Al-Yafayee) qabila (clan). His paternal great-grandfather Jabir Bin Abdullah served as a State Financier under Sultan Awadh-I bin Omar Al Qu'aiti (Nawab Sultan Nawaz Jung Bahadur Shamsheer-ud-Daula Shamsheer-ul-Mulk). His paternal grandfather, Sayeed bin Awaz Bin Jabir Bin Abdullah served as State Financiers under His Highness Sultan Omar bin Awadh Al Qu'aiti (Nawab Sir Jan-Baz Jung Bahadur K.C.I.E.) and His Highness Sultan Sir Saleh bin Ghalib Al Qu'aiti (Saif Nawaz Jung Bahadur).
Dr. Sayeed belongs to a literary family of Hyderabad. His father late Awaz Sayeed was a renowned Urdu writer, playwright, essayist and humorist who has seven books to his credit. His uncle late Dr. Mughni Tabassum was a well-known Urdu poet and critic and formerly Head, Department of Urdu, Osmania University. His aunt Mrs. Siddiqua Shabnam, based in London, is a well-known Urdu poetess. His only sister Dr. Seema Nishat, a U.S. citizen, is a leading physician in Tampa, Florida.
Dr. Ausaf Sayeed is married to Farha, an accomplished Egg Sculptor/Egg Artist and Painter. The couple has three sons, Faateh (25 yrs), Faaleh (21 yrs) and Azhaan (17 years).