Dr. Ausaf Sayeed's Bioprofile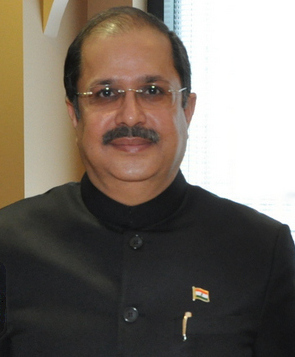 Dr. Ausaf Sayeed (b. September 18, 1963), a career diplomat belonging to the Indian Foreign Service (IFS), 1989 Batch,  is currently serving as High Commissioner of India in Seychelles. He formerly served as Ambassador of India to Yemen and Consul General of India in Chicago and Jeddah.
Dr. Ausaf Sayeed holds a Master of Science and a Ph.D. in Geology from the Osmania University in Hyderabad, India and an Advanced Diploma in Arabic from the American University in Cairo. He is a Competent Toastmaster (CTM) and recipient of the Shri Y.G.K.Murthy Gold Medal from Osmania University.
Family Background
Dr. Ausaf Sayeed is a Hadhrami Arab by descent belonging to a respectable family of Hyderabad Deccan, with roots in Mukallah in Hadhramaut (present-day Yemen). He belongs to the Al-Musalli (Al-Yafayee) qabila (clan). His paternal great-grandfather Jabir Bin Abdullah served as a State Financier under Sultan Awadh-I bin Omar Al Qu'aiti (Nawab Sultan Nawaz Jung Bahadur Shamsheer-ud-Daula Shamsheer-ul-Mulk). His paternal grandfather, Sayeed bin Awaz Bin Jabir Bin Abdullah served as State Financiers under His Highness Sultan Omar bin Awadh Al Qu'aiti (Nawab Sir Jan-Baz Jung Bahadur K.C.I.E.) and His Highness Sultan Sir Saleh bin Ghalib Al Qu'aiti (Saif Nawaz Jung Bahadur). On his maternal side, his grandfather Mohammad Abdul Ghani served as a District Judge in undivided Andhra Pradesh in the 1950s. Sayeed's maternal grandfather and maternal grandmother Haleema Begum both hailed from Surat in Gujarat before relocating to Hyderabad.
Dr. Ausaf Sayeed is married to Farha, an accomplished  Egg Sculptor/Egg Artist, and Painter. The couple has three sons, Faateh (25 yrs), Faaleh (22 yrs) and Azhaan (18 years).
Education
Dr. Ausaf Sayeed is an alumnus of American University in Cairo, Egypt (Arabic language), Osmania University, Hyderabad (M.Sc., Ph.D), P.G.College of Science, Saifabad, Hyderabad (B.Sc), Anwarul-Uloom Degree College, Hyderabad (Intermediate), St.Georges' Grammar School, Abids, Hyderabad (6th-10th Grades) and Jawahar Upper Primary School, Vijayanagar Colony, Hyderabad (LKG to 5th grades).
Professional Career:
Dr. Sayeed has handled different areas of work in his 27 years of diplomatic service, including political, economic, consular and cultural work, besides Haj management.
Dr. Ausaf Sayeed launched several business groupings during his assignment in the Gulf (GCC) countries to promote trade and economic relations between India and the Gulf countries. Some of these include the Indian Business Network (Riyadh -1996/97), the Professionals of India, Saudi Arabia (POISA), Dammam (1996/97), the Indian Business and Professional Network (IBPN), Qatar (1998), the Saudi Indian Business Network (SIBN), Jeddah (2005), the Indo-Saudi Medical Forum (ISMF), Jeddah (2006) and the Indian Education Council (IEC), Jeddah (2006).
As Consul General of India in Chicago, he worked closely with key elected and state officials and business leaders to further India's political and economic interests. He was instrumental in the establishing 'Smart State Partnership' between Illinois and Telangana.
​
As Ambassador of India to Yemen, he was instrumental in making a breakthrough in several key areas of political, security, economic and cultural cooperation. In the aftermath of political and security crisis in 2011, he arranged for the smooth evacuation of hundreds of stranded Indian nationals from different conflict zones in Yemen. Recognizing his efforts, Ministry of External Affairs recommended his name to the Department of Personnel &Training (DOPT) as one of its three nominees for the Prime Minister's Award for Excellence in Public Administration.
Dr. Ausaf Sayeed has contributed in promoting India's rich cultural heritage abroad. He was associated with the inauguration of the Maulana Azad Cultural Centre in Cairo (1992).  In 1997, he organized the "Satyajit Ray: in retrospect", a one-week film festival of renowned director Satyajit Ray's films in Riyadh, Saudi Arabia.  As Coordinator of the Indian Cultural Centre in Qatar, he organized a 9-day festival 'India Week in Qatar' (1999) in association with the National Council of Culture, Art and Heritage in Qatar. In 2003, he organized joint Painting Exhibitions and Workshops involving leading Indian and Danish painters in various cities in Denmark.
Dr. Ausaf Sayeed is a patron of Urdu language and literature and organized several Mushairas, seminars, symposiums, humorous sessions and Ghazal and musical programmes.
During his tenure as the Consul General of India in Jeddah, he organized the first-ever 'India Festival in Jeddah' (September 2005), followed by the 'First Asian Festival in Jeddah' (October 2006) and the 'First Asian Film Festival' (February 2008). He was closely involved with the formation of the Saudi-India Friendship Society in 2006 under the patronage of the Saudi Ministry of Information and Culture. He was also associated with the Saudi-India Civil Society Dialogue, besides being instrumental in organizing the visit of First All Women Saudi Student Delegation (from Dar-Al Hekma College) to India in 2007.
He formed the 'Asian Consuls General Club' (ACGC) in Jeddah in 2005, which comprised of Consuls General of thirteen Asian countries. He was instrumental in the publication of the book 'Historic Indo-Arab Ties' (September 2005) by the Indian Consulate.
As Regional Passport Officer, Hyderabad (1993-1995), he made the office people-friendly by getting rid of agents and intermediaries.
Books
He has published three books (i) 'Trends in Objective Geology for Civil Services and Other Competitive Examinations', CBS Publishers, New Delhi (First Edition, 1990; Third Edition, 2003) (ii) 'Trends In Indian Culture And Heritage: For Civil Services (Prelims And Mains) and Other Competitive Examinations' , Har-Anand Publications, New Delhi, 2011, (iii) 'Indian Art and Culture', Har-Anand Publications, New Delhi, 2011. He compiled and edited the Urdu book 'Kuliyaat-e-Awaz Sayeed' (2009), which comprises of the entire literary works of his father.